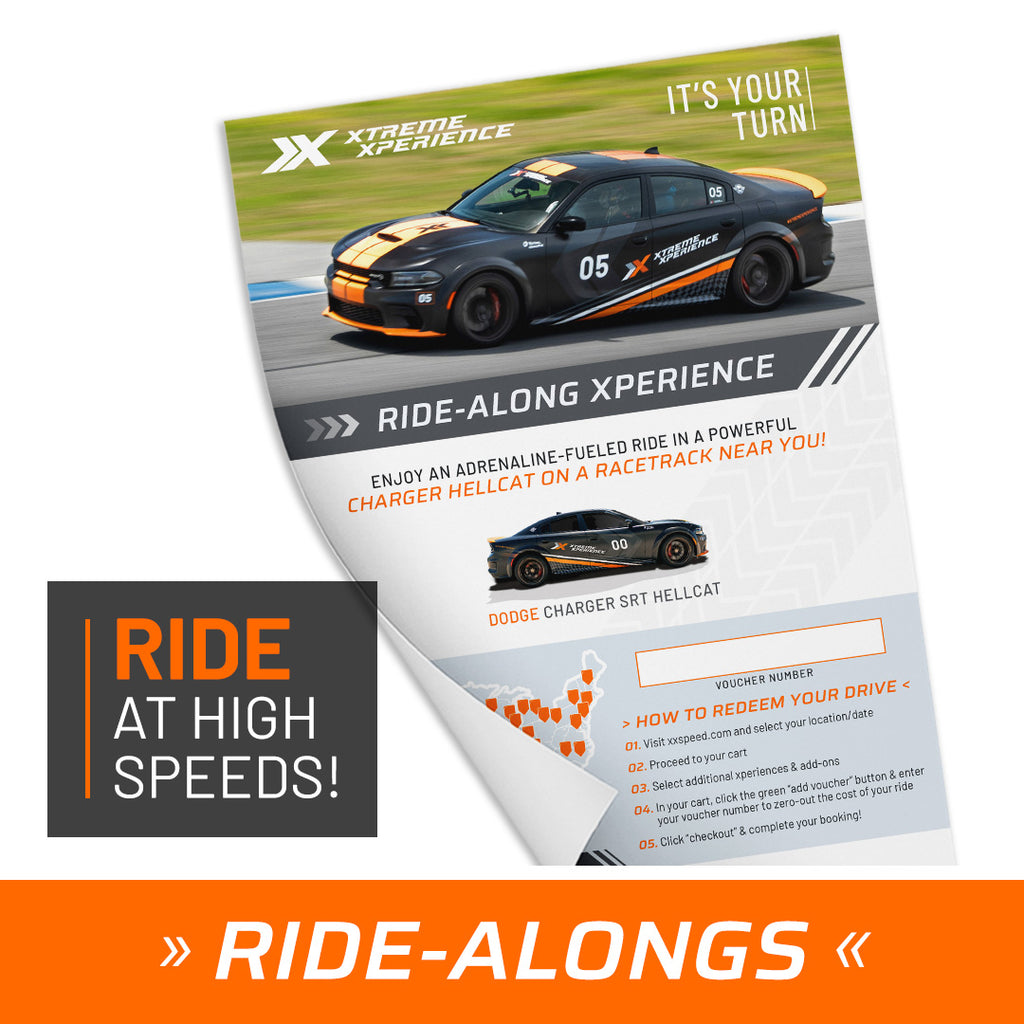 Charger Hellcat Racetrack Ride-Along Voucher
Ride FULL THROTTLE with a pro driver for 3-4 laps on a racetrack in a 2021 Dodge Charger SRT Hellcat Widebody sedan. The most affordable way to experience a racetrack. Period. 

Jump in a passenger seat to learn about the track from a pro driver to gain insight that will make your Xperience better or simply enjoy it as a high-speed thrill ride. It's fun for the whole family and can fit up to 3 passengers at a time.
Each Xperience includes:
Hellcat Ride-Along Xperience(s)
Choice of 35+ real racetrack locations
3-4 high-octane laps per Xperience*
A professional driver behind the wheel
Use of a motorsports racing helmet & fresh head sock
A lifetime of incredible memories!
The Dodge Charger Hellcat Widebody takes everything you know about the family sedan and throws it out the window. With 707 horsepower, this beast will launch from 0-60 in 3.6 seconds and max out at 196 mph. Undeterred by having four doors and a back row of seats, Dodge's paired the supercharged-V8 setup with a Widebody stance, making this a menace in a straight line and in the corners.

After purchasing this ticket, you will see a "Download Tickets" button on the Order Confirmation Page and you will see a "Download Tickets" button in your Order Confirmation Email. The "Ticket Number" on your ticket will zero-out the cost of the experience you choose and is valid at ALL Track Xperiences for 5 years after the purchase date. Visit www.xtremexperience.com or call 866-273-7727 to redeem your voucher. 

We recommend that you book your experience at a minimum of three weeks prior to the day you would like to come to the track to ensure that you can secure that each car you choose is available and secured for your time and date.
NOTE: You may also purchase a Ride-Along while booking your experience. Typically, you would purchase a Ride-Along Voucher right here if you have already made a booking, or are purchasing this as a gift. 
*NUMBER OF LAPS VARY BY TRACK. SUPERCAR XPERIENCE VOUCHERS EXPIRE 5 YEARS AFTER PURCHASE AND ARE VALID FOR ANY TOUR LOCATION. MUST BE 18+ WITH A VALID DRIVER'S LICENSE TO DRIVE. MUST BE AT LEAST 18+ AND 54" OR TALLER TO RIDE-ALONG WITH A PROFESSIONAL DRIVER. MAX HEIGHT 6'7"; MAX WEIGHT 350LBS. DRIVER HEIGHT AND WEIGHT REQUIREMENTS VARY BY VEHICLE. DRIVING PARTICIPANTS ARE REQUIRED TO PURCHASE TRACK INSURANCE (STARTING AT $39). VEHICLE AND DATE PREFERENCES ARE FIRST-COME, FIRST-SERVED AND BASED ON AVAILABILITY. VEHICLES ARE SUBJECT TO AVAILABILITY. WAIVER SIGNATURES AND ONLINE RESERVATIONS REQUIRED. THOSE YOUNGER THAN 18+ MUST HAVE A GUARDIAN-SIGNED WAIVER. TICKETS ARE VALID ONLY FOR SINGLE SUPERCAR TRACK XPERIENCES.  VOUCHER SALES ARE FINAL. VOUCHERS ARE FULLY TRANSFERABLE. REFUNDS WILL NOT BE ISSUED. IF A BOOKING IS MADE FOR A VEHICLE THAT COSTS LESS THAN THE VOUCHER VALUE, THE GIFT VOUCHER HAS NO RESIDUAL VALUE.