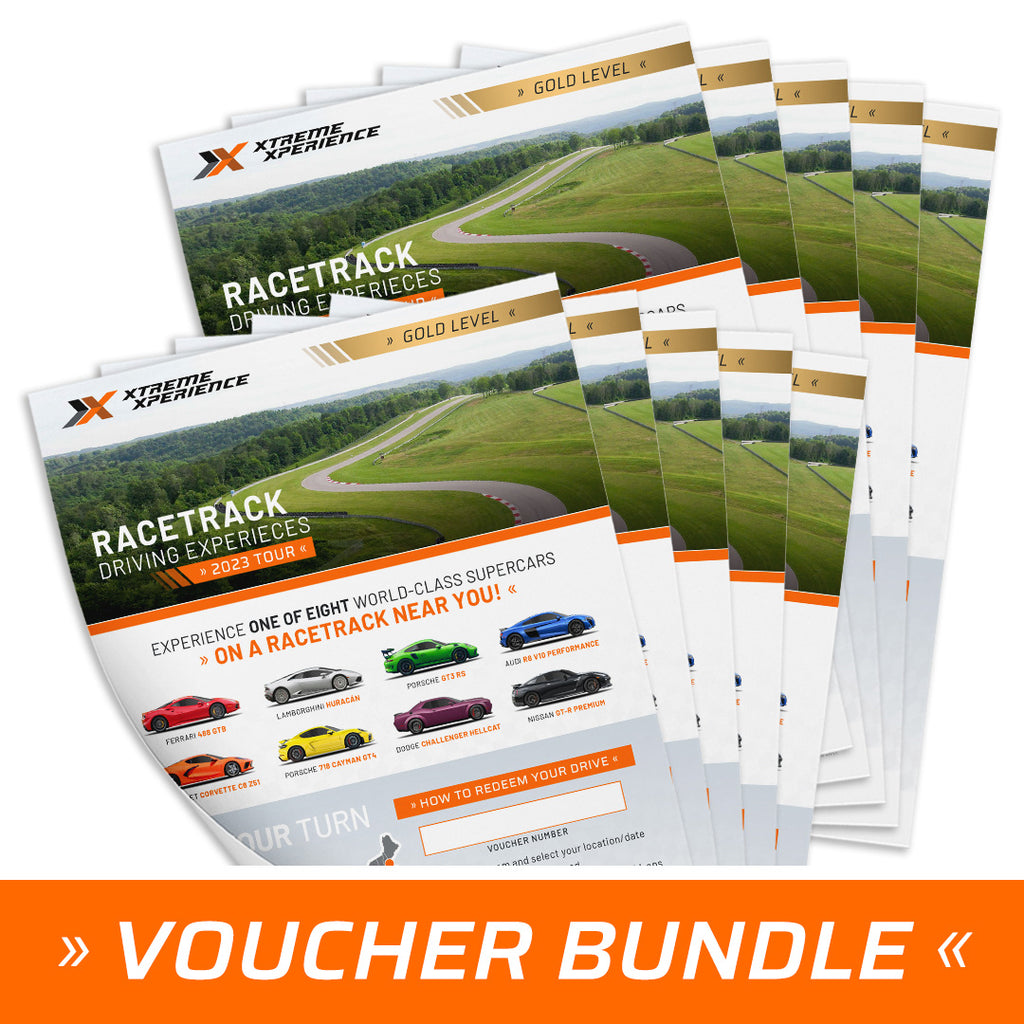 10-Ticket Supercar Track Xperience Bundle (Save 10%)
Drive ANY one of our supercars at over 30 racetracks across the U.S and save 10% when you buy a 10-Ticket Bundle. Bundles are perfect for groups, parties, corporate incentive programs, team outings and more. ONE (1) purchase includes TEN (10) Supercar Track Xperience Tickets. 
Each individual ticket can be redeemed for one Driving Xperience at ANY location in ANY of the following cars:  Ferrari 488 GTB, Lamborghini Huracán, Porsche 911 GT3 RS, Audi R8 V10 Performance, Corvette C8 Stingray Z51, Ford Mustang Shelby GT500, Nissan GT-R or Porsche 718 Cayman GT4.
Each Xperience includes:
Supercar Driving Xperience(s)
Choice of 35+ real racetrack locations
3-4 high-octane laps per Xperience*
An instructional classroom session
A professional racing instructor riding shotgun
Automatic transmission cars for ease of control
Use of a motorsports racing helmet & fresh head sock
A lifetime of incredible memories!
After purchasing this ticket, you will see a "Download Tickets" button on the Order Confirmation Page and you will see a "Download Tickets" button in your Order Confirmation Email. The "Ticket Number" on each ticket will zero-out the cost of the experience you choose and is valid at ALL Track Xperiences for 5 years after the purchase date. Visit www.xtremexperience.com or call 866-273-7727 to redeem your voucher. 
If you're looking for more drives, or a more private group event, please check out our Private and Group Event offerings HERE.
Looking for a single ticket? Click HERE. 
We recommend that you book your experience at a minimum of three weeks prior to the day you would like to come to the track to ensure that you can secure that each car you choose is available and secured for your time and date.
*Number of laps vary by track. Supercar Xperience Vouchers expire 5 years after purchase and are valid for any tour location. Must be 18+ with a valid driver's license to drive. Must be at least 18+ and 54" or taller to ride-along with a professional driver. Max height 6'7"; Max weight 350lbs. Driver height and weight requirements vary by vehicle. Driving participants are required to purchase Track Insurance (starting at $39). Vehicle and date preferences are first-come, first-served and based on availability. Vehicles are subject to availability. Waiver signatures and online reservations required. Those younger than 18+ must have a guardian-signed waiver. Tickets are valid only for single Supercar Track Xperiences.  Voucher sales are FINAL. Vouchers are fully transferable. Refunds will not be issued. If a booking is made for a vehicle that costs less than the Voucher value, the Gift Voucher has no residual value.