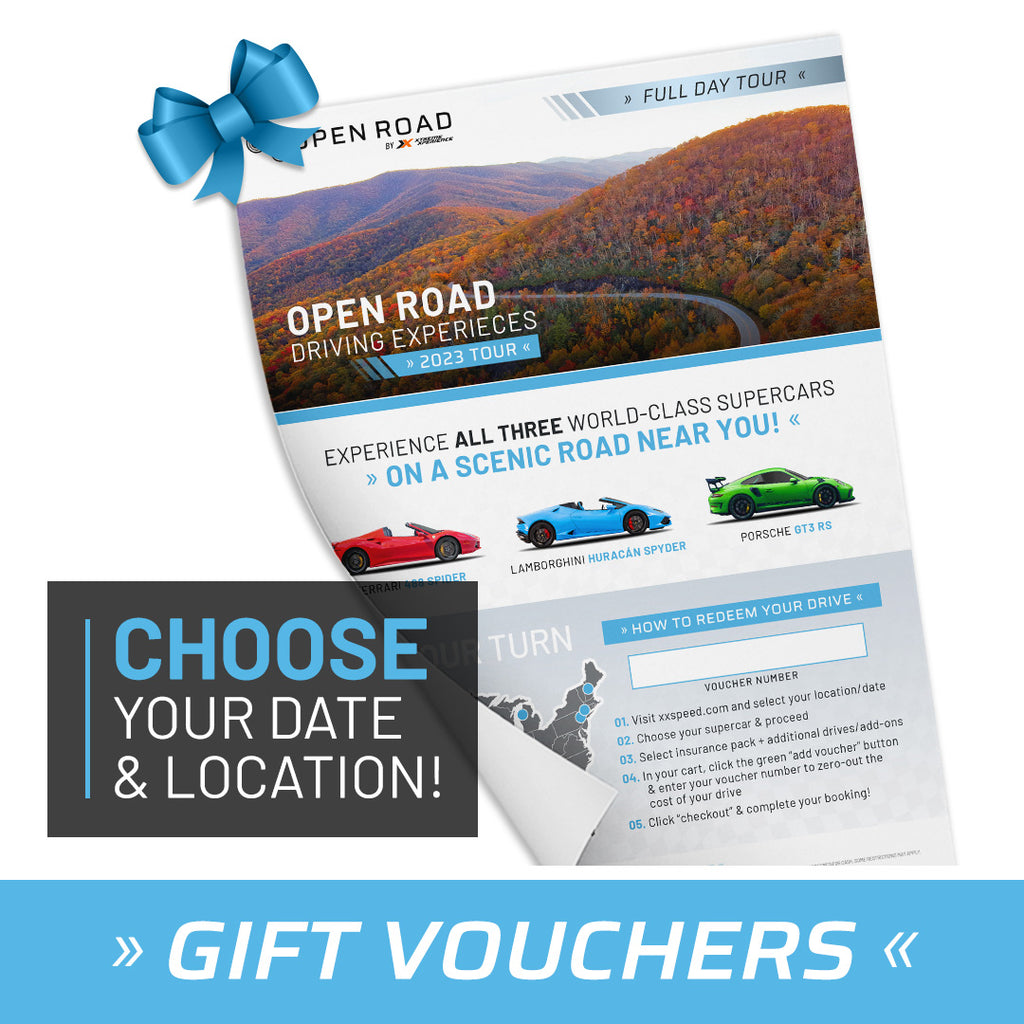 OPEN ROAD: Supercar Driving Tours Gift Vouchers
Drive the world's most exciting cars on America's most scenic and engaging roads.
Join us for an unforgettable driving experience and expertly-guided tour in our fleet of supercars through the most spectacular landscapes in America.
LOCATIONS:
Georgia / Blue Ridge Mountains -  October 2022

Arizona / Phoenix and Sedona - January 2023
California / Sonoma Valley and Coast - February 2023
Georgia / Blue Ridge Mountains - March 2023
Pennsylvania / Pocono Mountains - April 2023
New Hampshire / Kancamagus Pass - May 2023
Michigan / Traverse City - July 2023
Washington / Mount Rainier - August 2023
Utah / Salt Lake and Moab - August 2023
Colorado / Rocky Mountains -

August 

2023
New York / Catskill Mountains - October 2023
GIFT VOUCHER: 
With an OPEN ROAD Gift Voucher, you will lock-in your spot on the most exclusive and limited driving experience we've ever offered. 
Note, this is NOT a booking. You will need to redeem your voucher on our website.
MORE INFO:
Since day one, Xtreme Xperience's mission has been to make the world's most exciting cars accessible to everyone to enjoy. Now, after 10 years of putting over 350,000 people behind the wheel of supercars on racetracks across the US, it's time to explore the OPEN ROAD.
Enjoy spirited drives in a selection of supercars as you explore America's best backroads. Our professional drivers guide each tour on curated routes in a lead vehicle as the entire group of supercars follows behind. Available as 1-Hour, 2.5-Hour, Half-Day and Full-Day Tours. Supercar Tours provide the opportunity to enjoy the essence of the supercar lifestyle, discover breathtaking scenic views and share a bucket-list experience with your passenger.
Drive 3 Supercars On 1- to 8-Hour Long Tours
Drivers will drive one car of their choice for the one hour and 2.5 hour tours. On the Half-Day Full-Day tours, drivers will drive all 3 different models. (Lamborghini Huracan Spyder, Ferrari 488 GTB Spider, Porsche GT3 RS)
Drive On America's Best Backroads - Predetermined routes scouted and curated by professional drivers for the best driving dynamics, minimal traffic and epic scenery.
Pre-Tour Driving Instruction and Vehicle Tutorials - Learn about the cars and route before the drive.
Professional Guidance - Drivers will follow a lead car driven by a professional driver setting a spirited pace. There is no instructor in the car. 
Passengers Welcome (from $50) - Passengers are encouraged to share the experience (Passengers can't drive).
Photo Ops - Tours will stop at beautiful scenic overlooks for photo opportunities

In-Car Video Available

Open to All Skill Levels

Automatic Transmissions for ease of driving

Small Groups and Relaxed Environment

 
Drivers must be 25 years or older
Drivers must carry a form of full coverage insurance (liability, comprehensive, and collision) with a minimum $100,000 liability.
After purchasing this ticket, you will see a "Download Tickets" button on the Order Confirmation Page and you will see a "Download Tickets" button in your Order Confirmation Email. The "Ticket Number" on your ticket will zero-out the cost of the experience you choose and is valid at ALL OPEN ROAD Experiences in 2023.
Event dates and cars are subject to change.

Half-Day and Full-Day Tours: Guests will have the opportunity to drive EVERY supercar.
1-Hour and 2.5 Hour Tours: Experience one of the 3 powerhouses of performance and drive either the Ferrari 488 Spider, Lamborghini Huracan Spyder, or Porsche GT3 RS.
VOUCHER SALES ARE FINAL. VOUCHERS ARE FULLY TRANSFERABLE. REFUNDS WILL NOT BE ISSUED. IF A BOOKING IS MADE FOR A VEHICLE THAT COSTS LESS THAN THE VOUCHER VALUE, THE GIFT VOUCHER HAS NO RESIDUAL VALUE.